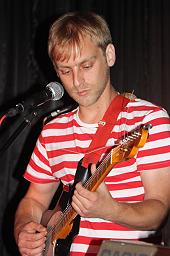 Lewis Mennell and his team who run the Sunday Sounds Of The Estuary events in Hull head up the King Billy venue for the festival. Lewis has put on excellent festival stages in previous years here and at the Black Prince.
Venue Organiser:
LEWIS MENNELL
email: llew-the-dweller@live.co.uk



The 2018 programme for the King William IV venue will be updated here - watch this space. As with all such events, published schedules are occasionally subject to changes without notice. All enquiries regarding the line-up, bands/acts that would like to perform here, or from those wishing to volunteer and help out as Stage Crew for this venue should be directed to the relevant Venue Organiser above. For other information please see the FAQ page.
The following acts have been confirmed for The King Billy, but days and times are yet to be arranged:
Great Northern Hotel, Nervous Twitch, MyOneManBand, Percy, Faux Pas, Common Ground, Leather 'O, The Estuary Dwellers, Black Kes, The Avenues, The Trilogy, Amy Bell
---
Friday May 25th


---
Saturday May 26th



---
Sunday May 27th



---